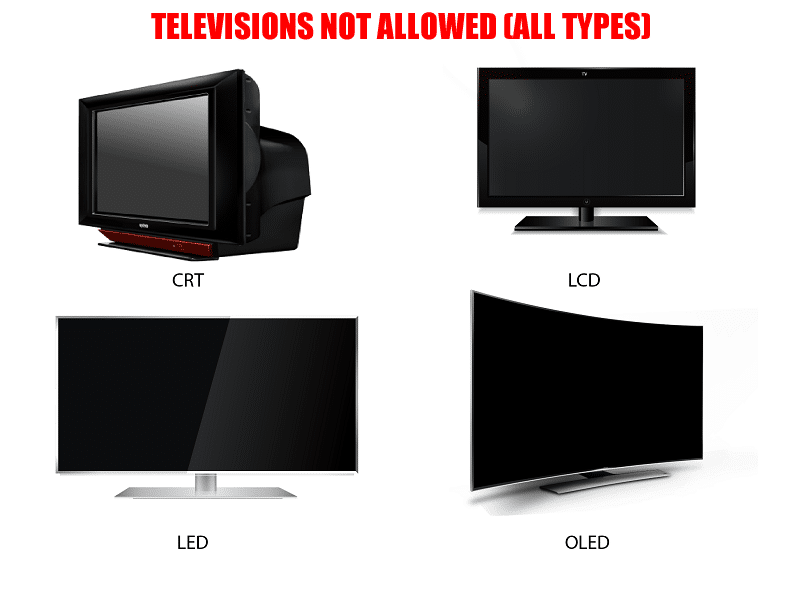 Restricted Or Items NOT Accepted For Recycling
Items below are not accepted for drop off at our facility and a junk disposal fee will be assessed for commercial customers if picked up.
Schedule A Pickup Or Drop Off
Restricted Or Items NOT Accepted For Recycling
Residential Televisions (TV) Regardless Of Type, Age Or Condition
Businesses At Commercial Addresses, Can Pay A Junk Disposal fee of $2/Inch Or $100 Minimum, whichever is greater for the disposal of each TV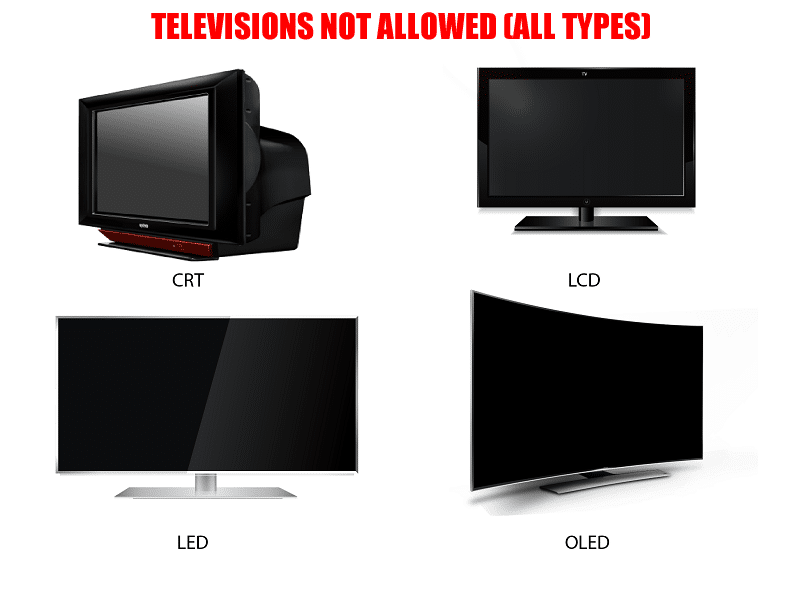 *Vacuum Cleaners* * Smoke detectors * Mercury-containing devices* *Exit Signs*
*Gas Grills, Charcoal Grills, Electric Grills, Bbq Grills *
Bulbs: All Types Not Allowed, LED, CFL, CRT, Bare Lead Glass Tubes, Florescent tubes, LED Tubes etc
Furniture: Sofas, Beds, Mattresses , chairs, tables, desks etc
Single Use Batteries  (Not Accepted)
Single Use Batteries: Alkaline, NI-CAD, NI-MH, AA, AAA
(Lead Acid Battery Accepted, UPS, Backup  Battery Accepted, Undamaged, Not A Bulging Lithium Ion Battery Accepted)
Audio/Video Media & Magnetic Tapes (Not Accepted)
Blank Audio/Video Media
Audio Tapes
CD, DVD & Blu-ray Discs
MiniDiscs
VHS Video Tapes
*CRT Monitors*
Tapes: Magnetic Tapes of Any Kind, Video, Audio, Data, VHS Tapes *Audio Tapes* Backup tapes Not Allowed
Liquid of any kind: Freon Containing Devices, Paint or Wet Items,
Building Material:  *Lumber* *Wood* *Doors* Windows 
Municipal Solid Waste: Paper, Cardboard, Glass, wood, bottles, plastic, Contact your local city or sanitation department.
Large Quantities of Broken screen monitors or Displays, while we accept flat screen monitors we cannot accept a large quantity of broken monitors or displays. 
We can not accept items that are considered household hazardous waste.
Large quantity of  broken printers or copiers, contact  for  a junk disposal  quote
Computer Blank CDs, DVDs & Blu-ray Discs
While we accept the drives/players we do not accept at no cost Computer Blank CDs, DVDs & Blu-ray Discs.
CD, DVD & Blu-ray Discs, Floppy, Zip & Jaz Disks, Tapes & Data Cartridges
CD's, DVD's, Optical Discs (The Only Exception is Game Discs with their console).