Business & Residential Electronics Recycling Services
Business & Residential Electronics Recycling Services Business & Residential Electronics Recycling Services
*Complete Form Below Or Call TO Schedule A Business Pickup Or Register For Drop Off
Business & Residential Electronics Recycling Services
Congratulations you ended here because you are searching for a local reputable company For Business & Residential Electronics Recycling Services. Businesses, federal agencies, fortune 5000, colleges and school districts etc. Whether its e-waste recycling or computer junk removal Beyond Surplus can develop a custom service for you.
Call Now 404-905-8235 Or Text, Get Your Questions Answered!
Recycle Electronics By Mail For Free
You can now recycle select items like Windows Laptops, Apple MacBooks, iPhones, iPads, ChromeBooks by mail for free. Simply request a USPS 0r UPS Shipping label by completing the form below. You Will receive a tracking number to track the progress of the recycling of your devices. This service is available to Businesses & Residential Customers. Ship your items to us directly from your Home or Business For Free Nationwide.

See Recycle Electronics By Mail
Business Or Commercial Customer?
To better assist you first complete the form below 24/7 we need to know what equipment you have, attach any inventory list or pictures or Call during business hours. We will reach out to you after form completion. Only businesses can schedule a pickup in addition to being able drop off equipment at our facility.
Call now for or schedule a Free Consultation for the Disposal of your computer & IT Equipment. Business Hours: Mon-Fri 9AM-12PM, 1.30PM-4.30PM; Saturday 8.30Am-1.30PM; Closed: Sunday
Residential Customer?
First fill out form below 24/7. To better assist you we need to know exactly what you have, you will receive drop off instructions to your nearest Atlanta metro area/Smyrna drop off location and accepted items list. You will receive a drop off number & Information will be emailed to you 1-2 minutes of completing the form. After you receive your drop off number you can drop off your items anytime during our business hours. No Residential pickups are available only drop offs at our Smyrna location.
No Pickup service is available for residential customers only drop off. If you have any questions call the number above. An appointment is not needed but we need to know ahead of time what you intend to recycle.
Address: 1835 SOUTH COBB IND. BLVD SE #105, SMYRNA, GA 30082
Why should you recycle?
We would like to acknowledge your environmental awareness and the positive impact you are making by diverting ewaste from the landfill. You have taken the first step in safely recycling your electronics, laptops, computers, IT Equipment & electronics. Beyond Surplus is registered an Electronics Recycler. We adhere to a zero-landfill policy for all electronic waste and do not export hazardous materials to other countries. Call or Schedule a Free Consultation Call, or submit a request through the form below.
Residential customers can drop off any number of Acceptable Items at our Smyrna warehouse during our normal business hours. An appointment is NOT required for regular drop off's unless if you require special services like watching us removing and or destroying your hard drive/s.
What is included with Business & Residential Electronics Recycling
Pickup for Businesses With Qualifying Equipment. Schedule A Pickup. We can remove, pack and transport the equipment to our facility.
Free Drop Off For Residential customers & Businesses that do not qualify for a pickup or dont want to pay a fee can drop off any number of Acceptable Items at our Smyrna warehouse. (NO APPOINTMENT REQUIRED)
Recycling and disposal of all equipment in accordance with all Local & Federal Regulations. R2 Downstream Vendors, Zero Electronic Waste in Landfill. You will not see your equipment on a burn pile on the 6 o'clock news in a foreign country.
Free In-house Shredding of Hard Drives. Free DoD 5220.22-M Data Wipe &/or Physical Shredding, per customer specifications.
Unlike your city/county run facility or big box store we do not subcontract hard drive shredding or data destruction, its all done in-house at our facility.
Free Drop Off Receipt / Certificate of Recycling and Data Destruction A Contractual Written Guarantee that your Equipment will be Recycled & Disposed of Responsibly & Your Data Will Be Destroyed Beyond Recovery.
Your Local Electronics, Big Box Store, Local City or County run Recycling center provides no Written Guarantee that your equipment & data will be safeguarded and Recycled Responsibly, Only Beyond Surplus Provides this service.
Overview Pictures of the equipment when we receive it at our warehouse. "A picture is worth a thousand words" Visual Verification of equipment delivery to our facility. Along with a delivery report that serves as transfer of liability.
Beyond Surplus will handle the logistics of equipment pick-up and delivery to its warehouse from your company's location(s). We also make arrangements to use our own equipment, and or a trucking company to facilitate pick-up and delivery.
Beyond Surplus will provide the labor to move and palletize the equipment on site and deliver to its warehouse if necessary (if you can palletize before pickup that would be awesome). Additionally, Beyond Surplus will provide technicians to de-install equipment if necessary.
How do we handle Business & Residential Electronic equipment?
Beyond Surplus is registered with the state of Georgia as a Computer Recycler, we adhere to a strict zero-landfill policy for all electronic waste and do not export hazardous materials to other countries.
At our warehouse we thoroughly inspect every item and protect your Data by removing Asset Tags, Stickers and Identifying marks from each unit (Sanitized).
During this initial Inspection stage all Hard Drives, CD-Roms, floppy disks, and other magnetic storage media are Wiped or Shredded (data security).
Address: 1835 SOUTH COBB IND. BLVD SE #105, SMYRNA, GA 30082
Business & Residential Electronics Recycling Drop Off Center
In an effort to create a safe environment for both our customers and employees Beyond Surplus is offering a NO-CONTACT Electronics Recycling Drop-Off Service. This service allows our customers to bring in Accepted Recyclable Electronic Equipment and have no direct contact with anyone.
Businesses & the general public can drop off equipment at our Atlanta warehouse during our business hours.

We buy large quantities of Equipment $Get PAID$!
We also provide Asset Recovery & Profit Sharing Services for large volumes of business computer & IT equipment. We Buy Your Business's Excess Computers, Laptops, Servers, etc. Beyond Surplus Pays fair market price for all equipment unlike scrap metal yards that pay only a fraction "scrap prices".
Living Up to the Mantra: Reduce, Reuse, Recycle
After Data Destruction and Sanitization we test all equipment for re-marketing. Reduction and Reuse is the best option to the challenge of ewaste per EPA guidelines. Beyond Surplus partners with Charitable organizations and Churches. This allows us to provide Free computers, monitors and assorted electronic equipment. Also making them available to low-income families, students and veterans who otherwise would not be able to afford them.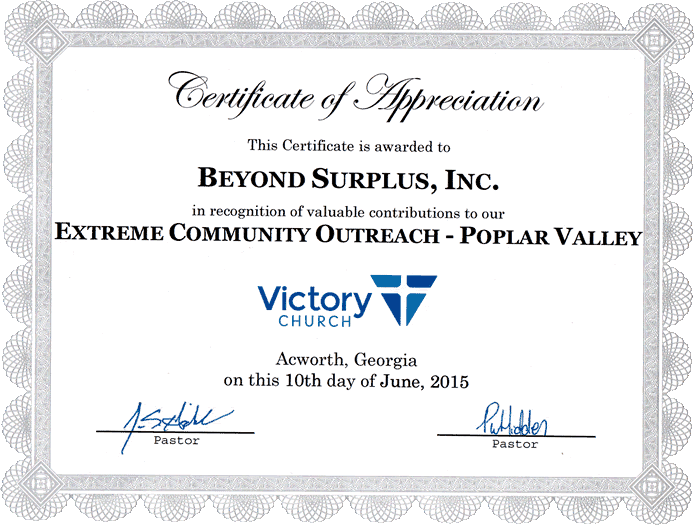 Equipment failing to meet Reuse standards, unrepairable, old, obsolete or not contractually permitted to be remarketed will be Recycled & completely destroyed by demanufacture and or physical shredding. Virtually every component of computer equipment is broken down and Recycled. We demanufacture scrap computer equipment into it's base components – glass, steel, copper wire, aluminum, circuit boards, plastics, batteries and other categories.
Separated scrap material is passed onto R2 certified intermediary processor facilities who take the scrap materials into the next step of recycling ensuring it is kept out of the landfill and transformed into new products.