Flat Screen Computer Monitor Recycling Disposal
Computer Monitor Recycling Flat Screen Only.
In today's digital age, computer monitors have become an integral part of our lives. From browsing the internet to working on important projects, we rely heavily on these screens. However, what many people fail to realize is the detrimental impact that improper disposal of computer monitors can have on the environment.
Computer Monitor Recycling Services For Businesses & Residential Customers
Beyond Surplus is a local reputable company For Free Flat Screen Computer Monitor Recycling Disposal in Atlanta Metro Area, Georgia & Beyond.
Call Now 404-905-8235 Or Text, Get Your Questions Answered!
The improper disposal of computer monitors can have severe environmental and health consequences due to the presence of toxic materials such as mercury and lead.
Computer Monitor Recycling Business Or Commercial?
To better assist you first complete the form above 24/7 we need to know what equipment you have, attach any inventory list or pictures or Call during business hours. We will reach out to you after form completion. Only businesses can schedule a pickup in addition to being able drop off equipment at our facility.
Residential Customer?
First fill out form below 24/7. To better assist you we need to know exactly what you have, you will receive drop off instructions to your nearest Atlanta metro area/Smyrna drop off location and accepted items list. You will receive a drop off number & Information will be emailed to you 1-2 minutes of completing the form. Once you receive your drop off number you can drop off your items anytime during our business hours. 
An appointment is not needed but we need to know ahead of time what you intend to recycle.
No Pickup service is available for residential customers only drop off. If you have any questions call the number above.
The demand for computer monitors has skyrocketed. However, with this surge in popularity comes a pressing concern about the proper disposal of these electronic devices. In an effort to address this issue, many organizations and individuals have turned to computer monitor recycling as a solution.
Computer Monitor Recycling Address
Address: 1835 SOUTH COBB IND. BLVD SE #105, SMYRNA, GA 30082
Computer monitor recycling is essential and especially important because monitors contain harmful chemicals like lead, cadmium, and mercury. Contact us if you are looking to get rid of computer monitors. You can donate computers
When monitors are crushed in landfills, these chemicals are released into the environment, air and water, and have been linked to serious respiratory and neuropsychological disorders and illnesses. Trash or Garbage companies will not pick-up old monitors for these reasons.
What Monitors Can You Recycle For Free with Beyond Surplus?
Flat Screen Computer monitors:  LCD (Liquid Crystal Display) Screens or LED (Light-Emitting Diodes) Displays. You can donate your monitor, we will find a good home for it. we recycle all types of flat-screen computer monitors. Computer Monitor Recycling  Services are available.
Zero Landfill Policy For Computer Monitor Recycling
Beyond Surplus Remains committed in our pledge to reduce harmful electronic waste in landfills and properly erase and dispose of chemical bearing products like monitors, Laptops, hard drives, computers and IT Equipment among many others. If you are looking for where you can recycle your old computer monitor for free we can help. Beyond Surplus specializes in the disposal of old computers and monitors.
Why Should you recycle computer monitors?
Many LCD monitors, displays & screens contain chemicals that can harm our health and the environment if they're not disposed of properly. That's why it's so important to make sure these items don't just end up in the trash. How to dispose of computer monitors? Contact us wheter is one or one hundred we can help.
How to prepare monitors for recycling
If you have a liquid-crystal display (LCD) screen, it's probably backlit by small fluorescent bulbs containing mercury. Lead found in older computer monitors & Mercury found in flat screen monitors are toxic metals that must be kept inside the monitor and recycled correctly.
 Here are a few steps to take when preparing your monitor for recycling:
Unplug the DVI, HDMI or VGA cable from your monitor (as well as the CPU) to lighten the load and prevent tripping (for VGA, you'll need to unscrew the ends). If the power cord can be removed, unplug that as well.
Always place monitors face to face and tape together if possible, to prevent damage. If being shipped to Beyond Surplus place them "face to face" "screen to screen" or tape cardboard in front of monitor.
If dropping off at a beyond Surplus facility, place a towel or blanket down in the car and put the monitor face down if single or "face to face" "screen to screen" if you have an even number of monitors. This will ensure that nothing breaks if you hit any potholes on the drive.
Always store or transport large number of monitors "face to face" "screen to screen" or with cardboard wo prevent damage to the screen.
Is there anything you don't accept? Yes!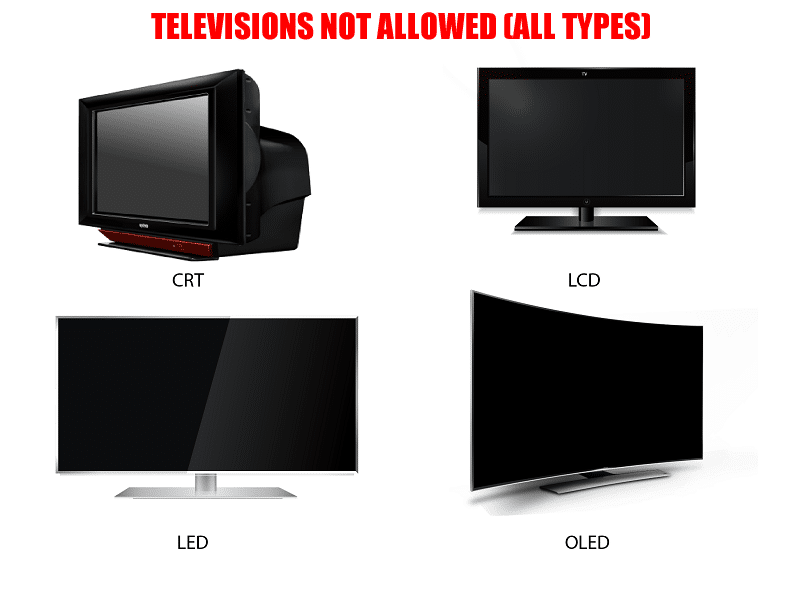 Is there other equipment you accept at no charge? yes
We offer FREE computer recycling and IT Equipment disposal pick-up for businesses and drop-off only for residential customers in the Atlanta Metro Area. We accept at no cost for Recycling (free): flat screen lcd computer monitors, Laptops, desktop computers, servers, Smartphones, Audio/Video Equipment, Tablets, IT network equipment, routers, phones, telecom equipment, peripheral devices etc We have a recycling center that accepts public computer donations.
If you have a large quantity of laptops, chromebooks or macbooks we can work with your business to find organizations that need  laptop donations for schools or for atlanta metro schools laptop donations. We are one of Atlanta's trusted companies to handle computer equipment donations, public computer donations or donations for old computer equipment is what we specialize in.
Address: 1835 S Cobb Industrial Blvd SE #105, Smyrna, GA 30082
Call (404) 905-8235 To Recycle Flat Screen Computer Monitors in Atlanta
In an effort to create a safe environment for both our customers and employees Beyond Surplus is offering a NO-CONTACT Flat Screen Computer Monitor Recycling Drop-Off Service, this service allows our customers to bring in Accepted Recyclable Electronic Equipment and have no direct contact with anyone. Businesses & the general public can drop off accepted equipment at our Atlanta warehouse during our business hours.